Company History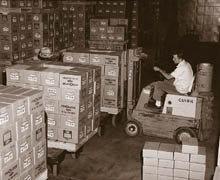 Mid-West Terminal Warehouse Company was founded in 1931 by Charles J. LaMothe. Originally located at 2020 Walnut Street in downtown Kansas City, Mid-West Terminal soon became a leader in the Kansas City public warehousing industry. In 1948 Mid-West Terminal entered the barge business by acquiring the municipal wharf on the Missouri River in Kansas City. The public barge terminal proved to be an overwhelming success in Kansas City and the Midwest region.
1963 marked the beginning of a new era for Mid-West Terminal, industrial real estate development. This new facet of business expanded under the leadership of C.J.'s son, Rodney LaMothe, and has grown to become the backbone of Mid-West Terminal.
Today the company continues to operate bulk terminals and is a well-known and respected industrial real estate developer.